[4 October 2013]
Mexico based animation studio and post-production specialist adds FLUX Store to help cater for growing data demands
To cater for the increasing demand of high-resolution projects, Cluster Studio — which has served the post-production market in Latin America for almost a decade — recently added FLUX Store, the new post-production storage solution from FilmLight.
Cluster Studio has a workflow pipeline that involves the creation and handling of a huge amount of data, and the capabilities of the company's incumbent NAS solution was being superseded. The team quickly realized they needed to invest in a larger and faster storage solution capable of dealing with their growing data demands.
FLUX Store is a breakthrough approach to storing and managing the huge amounts of content generated by today's digital workflows. Capable of streaming 2K and 4K content into Baselight systems over dual-link 10 gigabit Ethernet, it includes user-expandable storage up to 80TB with integral data management.
"We are familiar with the capabilities of the FLUX storage solution through our sister company in Mexico, Color Space, which already has two Baselight systems," said Armando Ricalde, director of technology, Cluster Studio. "With its unrivaled features, performance capabilities and unbeatable price we quickly decided that an investment in the FLUX solutions was the best option for our business."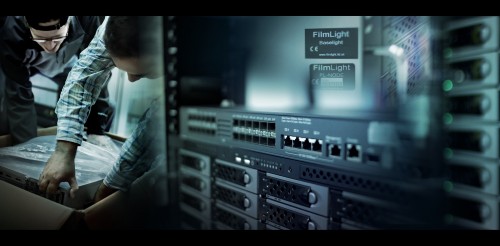 The large capacity of the FLUX solution combined with its high-bandwidth transfer constant rate means Cluster Studio can now utilise a number of workstations at any one time, which results in more iterations and more time to leverage creativity for its clients.
"Having a diagnostic suite and a set of specialized tools also means we can better maintain a smooth and efficient production," added Ricalde. "This enables us to focus our developing efforts on more proprietary pipeline tools for the artists. And, happy artists and less frustrated IT department means more beautiful imagery in motion and compelling stories."
The open connectivity of the FLUX Store means any client can be connected without the need for additional interface cards or client licenses. This has allowed Cluster Studio to maximize its resources by deploying FLUX Store throughout its current network infrastructure.