[15 August 2013]
Vancouver based post-house Digital Film Central relies on Baselight TWO to help create a fully ACES-compliant and flexible colour pipeline, from VFX to DI

As the post facility for Neill Blomkamp's new movie Elysium, Digital Film Central (Central) constructed a unique 3.3K colour and conform workflow that tightly integrated grading with both editorial and VFX. To ensure seamless collaborative working, the entire pipeline used the Academy Color Encoding System (ACES).
The effects-heavy movie contrasts two distinct "worlds": the ruined earth and a pristine, man-made space station called Elysium, home of the rich and privileged. When it came to creating the look, these two worlds needed to powerfully contrast one another – but still feel like they belonged to the same universe. Director Blomkamp worked closely with Central's lead colourist Andrea Chlebak on the look, as well as innovative ways of engaging the rest of the finishing process.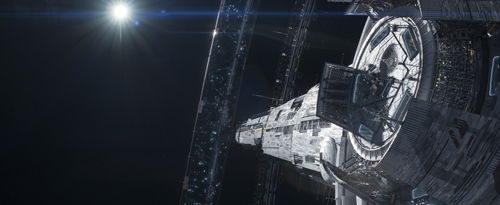 Elysium
"The aesthetic for Elysium was incredibly important to me," explained Blomkamp.  "A lot of Andrea's instincts were in line with mine and that just makes for a very seamless, smooth process."
Most of the film was shot anamorphic on the RED Epic in 3.3K resolution. The RED HDRx high dynamic range feature was used throughout production and every plate was delivered in both its original exposure and HDR exposure. Baselight easily switched between these exposures and other raw decode options, simplifying the process of delivering thousands of VFX plates.  The metadata support in Baselight was integrated with Central's tracking database, allowing editorial, VFX, and DI teams to stay in-sync throughout post.
The use of ACES meant that all the VFX pre-grading could be done in the same colour space as the visual effects and finish, while maintaining a linear-light workflow. "With full support for OpenEXR and ACES in Baselight, we could produce EXRs exactly as the VFX vendors needed them," explained Chris Davies, director of operations at Central.
"It was really powerful to be able to pre-grade and QC the VFX plates in-context of the DI look," he added. "As soon as we needed to hand over the plates to VFX we could just turn off all the DI looks and render our EXRs. We have used ACES workflows before but this was the first time we fully switched over to floating-point OpenEXR, which the GPU grading on Baselight allowed us to do."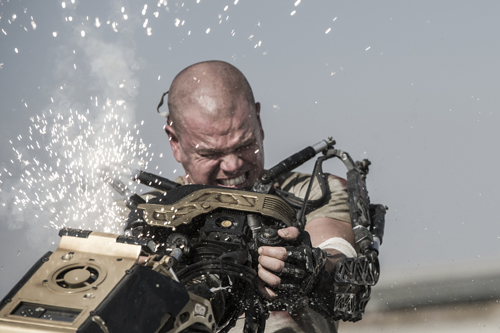 Elysium
In the final grade, Chlebak used Baselight to create a nuanced colour palette between Earth and Elysium. "A lot of the film's aesthetic was rooted in photography and art direction, so I took cues from those approaches and explored a number of different directions," she said. "Using ACES kept all aspects of the production rolling at the same time, allowing us all to really push the process and get a really terrific, seamless result."
"On a technical level I found everything ran incredibly smoothly and it's definitely a process I would like to repeat," added Blomkamp.
Peter Postma, managing director of FilmLight Americas, said "Baselight and Truelight, our colour management system, are the obvious foundation for open, collaborative ACES workflows. As Central found on Elysium, it makes the process transparent and adaptable, and gives the whole creative team the comfort that if anything changes, or ACES rolls out an update, it is a quick, secure and simple matter to adjust."